19 Affiliate Programs With Lifetime Cookies And Commissions To Promote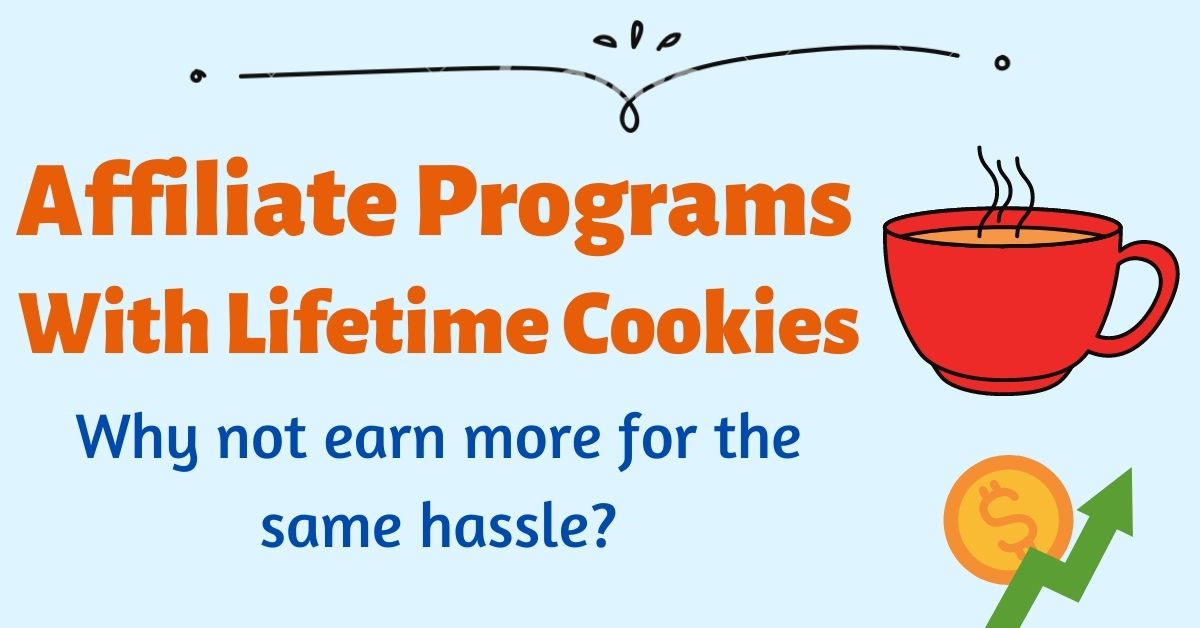 Unless you are running a blog just for fun, it is important to actually 'make money' from it. And this so-called income can come in many ways, one of the best being affiliate income.
You have two choices:
1) promote an affiliate program with lifetime cookies and high commissions
2) or promote an affiliate program that has a cookie life of 10 days and offers a 5% commission
Without a doubt, if I were you I would have gone with the first choice most of the time (unless the situation so may demand). What is your answer?
Affiliate programs with lifetime cookies are those programs that give a commission to the referrer no matter how long it had been since the buyer had clicked the affiliate link. Some of the best lifetime cookies affiliate programs are offered by FastFunnels, NutriProfits, BuyBackPros, and CuraDebt.
But wait, it is not as easy as it sounds to actually find affiliate programs that offer a lifetime cookie. This is why I have decided to come up with this massive list of them. No matter what niche you are in, you will definitely find something that is good to promote from here.
What are cookies in affiliate marketing?
Affiliate cookies are simply files or scripts created by websites to track their sales and to know who has promoted their product.
This means that when someone clicks on an affiliate link, a special cookie is stored in his or her browser, readily tracking what he is doing on that product website.
In simple words, this lets the company collect information and understand from where the sale originated so that they can pay the affiliate marketer who was the reason behind the purchase.
What is cookie duration?
Cookies have an expiry time, and this is known as cookie duration. This is the time period in which the cookie is valid and any sale made after the cookie has been expired won't count and the promoter will not earn for those sales.
For example, imagine that I promote a juice maker which has a cookie life of 35 days. If someone clicks my affiliate link and then makes a purchase of the juice maker but only after 35 days, I will not get any commission.
Then, what is a lifetime cookie?
The name says it all. A lifetime cookie does not expire. If the buyer buys something after three years since he has last clicked the affiliate link, his affiliate would still earn commissions.
This is why I like and recommend lifetime cookies affiliate programs. They make sure I get my money, no matter when my referrer purchased it! But more on that later.
It may also be mentioned that they also offer high commissions, mainly recurring, most of the time.
Related: How to buy a domain name from GoDaddy
Best lifetime cookies affiliate programs
1.FastFunnels
Niche: Marketing, Blogging, Sales
Cookie Duration: Lifetime Cookie
Average Commission:
Official Website Link: FastFunnels.com
Best for: Bloggers and affiliate marketers with audiences looking to generate more sales and increased conversion rates.
A worthy opponent for ClickFunnels, but with a lifetime cookie affiliate program. FastFunnels is easy to use, easy to customize, and easy to promote.
Having a great sales funnel is important for getting more sales. It is rare that sales funnel builders offer such a great affiliate program. Custom-made promotional materials are also available, making Fastfunnels's affiliate program one of a kind.

2.Stencil
Niche: Designing, Templates, Art, Images
Cookie Duration: Lifetime Cookie
Average Commission:
Official Website Link: Stencil.com
Best for: If you have an audience wondering how to design stuff like images and posters, Stencil is an excellent choice.
Stencil is an all-in-one solution for designing images, posters, and similar virtual items online. The program is so easy to use that even beginners feel they too have a chance on standing out among professional designers.
Quickly create infographics, flyers, and posters on the go with Stencil. There are a lot of templates available to choose from, with thousands of fonts and illustrations to add color to it.
P.S: If you are a Canva promoter, have a look at Stencil. It's exactly the same with an added bonus: a lifetime commissions affiliate program.
3.Xcoins
Niche: Crypto, Bitcoins, Online Income
Cookie Duration: As usual, cookies are lifetime
Average Commission: 10$ + 20% of the sale
Official Website Link: Xcoins.com
Best for: Online income websites that have cryptocurrency and BTC interested audiences
XCoins is a famous name in the bitcoin industry. They have been around ever since bitcoins started to bloom and gained attraction.
You get a personal affiliate manager if you signup for their affiliate program. Promotional materials like banners and images are also available.

4.Buy Back Pros
Niche: Electronics, home appliances, used items
Cookie Duration: Buy Back Pros offer a lifetime cookie affiliate program
Average Commission: Begins at 7% ( about $21 ) for each sale
Official Website Link: BuyBackPros
Best for: The Buy Back Pros affiliate program is an ideal fit for websites that cater to electronics news, device enthusiasts, consumer electronics reviews, green/eco-friendly websites, mommy blogs, or if you write about saving money.
BuyBackPros is one of those rare affiliate programs with lifetime cookies that tops this list. They have a large number of electronic appliances that are easily sellable, and for the same reason, I think they are great. Even if you have an affiliate site on cakes, you can refer to appliances like microwave ovens and cake makers.
On average, each individual consumer makes a purchase of something around $300 and small businesses around $1000.
5.LiveWebinar
Niche: Webinar creation, marketing, automation, business
Cookie Duration: Lifetime
Average Commission: 30% Lifetime commission
Official Website Link: LiveWebinar.com
Best for: Blogs on automating business, creating webinars, increasing profits, and so on.
Webinars are developing more and more interest recently. In many cases, a simple webinar can outperform multiple youtube videos. That is an excellent reason for promoting webinar softwares.
But wait.
Before you get all excited and run to signup for LiveWebinar's affiliate program, please bear in mind that to be an affiliate marketer for LiveWebinat, you have to buy their PRO membership first. In fact, this is the only thing that I hate about LiveWebinar.
The platform is solid, highly customizable, and powerful. However, I don't know why they still hold on to the 'Join-then-promote' condition.
I can guarantee you that if you are looking for a solid platform to run your webinars, LiveWebinar is the best place. After joining, you can promote it as long as you want!
6.Word Tracker
Niche: Keyword research, Search Engine Optimisation
Cookie Duration: Lifetime (Not clear though)
Average Commission: 80% for the first month, 20% recurring commissions after that
Official Website Link: https://www.wordtracker.com/affiliate
Best for: Keyword research and SEO blogs with traffic that is interested in ranking in Google
Some benefits I found of using WordTracker's affiliate program are:
Includes access to tons of materials such as banners, images and logos they have made for you
Exclusive offers and discounts to tempt your audience and generate more conversions.
Low payout thresholds and a great affiliate dashboard and admin area make it easier than ever
7.CuraDebt
Niche: Debt, credit cards, finance, loan, tax
Cookie Duration: Lifetime cookie
Average Commission: Depends on the plan but you can expect around $50 to $500
Official Website Link: CuraDebt
Best for: As a CuraDebt affiliate, you can promote it easily and efficiently for audiences looking to get help for their unsecured debts (credit cards, personal loans, etc.) and/or tax debts.
CuraDebt offers one of the best affiliate programs with lifetime cookies. They offer free consultation services- exactly what you should look for as an affiliate marketer.
It is easy to get more conversions for promoting a product that is free. Whenever I look for affiliate programs, I make sure that they have a free product or service that I can refer my visitors to. Making people upgrade to the paid plans is the company's work and their sales funnel, less work for me.
As CuraDebt is a finance solution service, you can expect to earn high payouts from their affiliate program. Their affiliate page has all the necessary information that you would need. Highly recommended program.
8.CoinMama
Niche: Cryptocurrency, bitcoin
Cookie Duration:
Average Commission: 30%
Official Website Link: CoinMama
Best for: If you are in the crypto or bitcoin niche, this is the platform for you.
An awesome bitcoin trading platform and one of my favorite cryptocurrency exchangers. You get everything you need to buy and sell crypto.
They have a very good website design that the customers are attracted to the program and most of the time cannot leave without making an account. They have banners, specialized links, and even an affiliate manager to help you increase leads.
If I was in the crypto niche, I would definitely have chosen this as my primary affiliate program. The lifetime cookies and commissions are a gift too.
9.NutriProfits
Niche: Food, nutrients, diet
Cookie Duration: Lifetime
Average Commission: 20%-40%
Official Website Link: NurtriProfits
Best for: Food blogs, recipe blogs, diet and health niches
NurtiProfits is not a single affiliate program, but an affiliate network. The main products are food and nutrient supplies. If you have a food blog, this is an excellent all-in-one go.
Nutriprofit was built with affiliate marketers in mind, by affiliate marketers. The platform is intuitive, charming and only includes products that are of high quality and have great sales potential.
Nutriprofits have one of the highest commissions on the market, with the highest conversion rates. There are multiple payment methods you can choose from, including direct bank transfer. Effective tracking and promotional materials are available once you signup for free.
10.SEO Reseller
Niche: SEO, website, internet marketing
Cookie Duration: Lifetime cookies
Average Commission: 6% per transaction
Official Website Link: https://www.seoreseller.com/affiliate-program
Best for: digital marketing and SEO blogs
SEO audit, rank tracker, report audit, private counseling, marketing automation, CRM products…SEO Reseller is the A to Z of SEO or Search Engine Optimization world. No matter what niche you are in, SEO is important to drive sales.
Affiliates are paid every 14 days after each successful sale is made, and once you signup for SEO Reseller's lifetime cookies affiliate program, you have access to a personal and dedicated account manager.

11.Young Again Pet Food
Niche: Pet, breeding, food
Cookie Duration: Lifetime
Average Commission:6%
Official Website Link: Young Again Pet Food
Best for: Websites in the pet care and pet food niche
They have everything in store from food for dogs and cats to ferrets and kois.
As a Young Again affiliate you can earn up to 6% for every dollar your customers, friends, and family spend at YoungAgainPetFood. Once they have made a purchase as a result of being directed to YoungAgainPetFood.com through your banner, you'll continue to earn commissions on every purchase they make.
NB: Please note that you must have a website to start promoting YoungAgainPetfoods.

12.PaySafe
Niche: Payment processing, finance, websites, freelancing
Cookie Duration: Lifetime
Average Commission: 20%
Official Website Link: Paysafeaffiliates
Best for: Promoting to audiences interested in scaling their online businesses or running any website.
If you know what PayPal is and how it works, you will understand what PaySafe is. Whether you run a local restaurant or a global software platform, PaySafe has a payment solution that will help you grow. Choose from a wide menu of services designed for big ambitions.
Paysafe makes it easy to accept payments across all your websites, let it be for selling online course sales or for offering personal freelance services. This means that it can be easily promoted to freelancers and website owners, as payments form the core.
Related: Is affiliate marketing a pyramid scheme? Nope, it's not!
13.iLoveCoding
Niche: Coding, education, technology
Cookie Duration: Lifetime
Average Commission: 30%
Official Website Link: https://ilovecoding.org/pages/affiliates (Affiliate page)
Best for: Blogs with technology or coding content.
iLoveCoding is an amazing coding education website. Covering courses from Javascript to advanced coding programs, they are an all-in-one go for someone looking to learn to code.
iLoveCoding Full-Stack Pro training program is priced at $99. When you make a sale, you earn a 30% commission which is $29.70 per sale. Besides this, what I like about iLoveCoidng is that they have a discount coupon option that you can use for more conversions.

14.Private Internet Access
Niche: VPN, internet privacy, online, security
Cookie Duration: Lifetime cookie
Average Commission: 33% for all sales
Official Website Link: Become an affiliate of Private Internet Access
Best for: audiences having privacy concerns, in need of security solutions
VPN or Virtual Private Network is one of the best methods to mask your identity in the online world. Providing VPN service, over 78+ countries, Private Internet Access has grown to become one of the best VPN providers.
Some benefit of PIA's lifetime cookie affiliate program is that you get high paying recurring commissions over the lifetime of a customer, a dashboard with 24/7 access to track & monitor commissions in real-time.
One of my favorite.Elegant, simple, and world-class service.

15.Camping Maxx
Niche: Camping, outdoors, traveling
Cookie Duration: Lifetime
Average Commission: 10% (10 to 30 dollars average)
Official Website Link: CampingMaxx
Best for: Travelling websites, camping, and outdoor niche interested public
CampingMaxx is a well-known website that was established in 1972. They sell all sorts of quality camping and traveling equipments from hooks and gloves to specialized backpacks.
CampingMaxx has an affiliate program with lifetime cookies which they run through the famous affiliate network ShareASale.

16.Text Magic
Niche: Marketing, SMS,
Cookie Duration: lifetime
Average Commission: Changing
Official Website Link: Textmagic Official Website
Best for: promoting to business owners and those interested in increasing lead generation by sending SMS
Transform customer experiences with TextMagic's easy-to-use text messaging marketing software. Send notifications, alerts, reminders, confirmations, and SMS marketing campaigns anytime, anywhere.
Recommend, refer, and resell TextMagic to others and earn 20-30% lifetime recurring commission from each purchase.

17.The RTA Store
Niche: Kitchen, bathroom appliances, home appliances, and furniture
Cookie Duration: Lifetime duration
Average Commission: 2% (Yup, it's bigg)
Official Website Link: Become an affiliate for The RTA Store
Best for: Website owners in the kitchen or bathroom niches looking to refer cabinets, shovers, flooring materials, and so on.
The RTA Store is a house full of kitchen and bathroom appliances. A great and trusted website to buy flooring materials, cabinets of any type, closets, kits, sinks, pipes, plumbing sets, or anything that you can think of that your kitchen or bathroom lacks.
If you are not a plumber, they have pre-assembled appliances that work like a charm. Room designing is also in safe hands here.
When I said the 2% commissions are not so small, I really meant it. You would be surprised to know that on average, kitchen sales are about $2800 and bathroom sales are $990 for each individual customer. 2% of a $1000 won't SUCK at all. Do the math!

18.Asinzen
Niche: Amazon sellers, merchants
Cookie Duration: Lifetime
Average Commission: 30%
Official Website Link: https://asinzen.com/affiliatesignup/ (Affiliate page)
Best for: Promoting to merchants and Amazon product sellers
Ever dreamt of selling on Amazon? But researching products, ranking for the search terms, and optimizing for proper keywords is not something everyone can do. Asinzen makes that all easy, fun, and engaging. Take the guesswork out of Amazon Product Research and scale your business with better buying decisions.
Asinzen offers a flat 30% commission for every order that you bring them. What is awesome about Asinzen is that you can provide discount coupons to your referrals to increase the conversion rate.

19.Supersize Social
Niche: Social media marketing, Instagram, and Facebook niches
Cookie Duration: Lifetime cookie
Average Commission: 20%
Official Website Link: Supersize Social affiliate page
Best for: promoting if you have a blog on building social media followers and increasing brand influence
Growing social media pages have become a vital part of running any business, let it be software or a footwear company. Fortunately, with the arrival of social media marketing solutions like Super Size Social, this has become easier than ever.
What I love about promoting SupersizeSocial is that they have made an 'Affiliate Handbook' that is super useful. Not only that, Supersize Social has a detailed guide along with tons of promotional materials available on their Google Drive page which you get access to after you signup.
Anyone can be an affiliate for Supersize Social. Whether you are a customer, digital marketer, blogger, social media influencer, or just someone looking to make some extra money on the side, have a look at their affiliate program with lifetime cookies.
Why affiliate programs with lifetime cookies?
Why not?
From my experience, I can assure you that it takes the same time and effort to promote a high commission affiliate program as well as a low commission one.
Earning a few pennies more would not be bad after all. This is what lifetime cookies affiliate programs have in store.
There is no more worry about when the customer is going to buy the product. whenever he does, you definitely are going to earn the commission, thanks to the lifelong, never expiring affiliate cookie.
Summing Up
We have seen in detail why affiliate programs with lifetime cookies are good and have also seen some of the best ones among them.
Now it's time to act! If you read this and are thinking of shutting down your PC and about having a drink, probably affiliate marketing is not going to work for you. It requires hard work, smart thinking, and dedication.
If you don't know how to do affiliate marketing properly, join Wealthy Affiliate. It's almost free and covers stuff from beginning to advanced marketing tutorials that you never would have thought of yourself.
I have written a detailed guide about Wealthy Affiliate and some alternatives. Check it out if you are interested.
That's all for now. Have some time? Go check out my blogs.
Hope the post was useful.Looking forward to hearing back from you! Why don't leave a nice comment?
Cheers,
Goutham
What are the best affiliate programs with lifetime cookies?
Fastfunnels, CuraDebt, BuyBackPros, CoinMama, Stencil, and NutriProfits are some of the best affiliate programs that have a lifetime cookie duration.
What is an affiliate cookie?
Affiliate cookies are files created by websites in order to track and collect information about each sale and click made through an affiliate link.
What are the benefits of lifetime cookies affiliate programs?
Whenever someone purchases something using an affiliate link, the cookies won't expire and would stay lifelong, so that you get a commission no matter when he or she brought it.