Is Affiliate Marketing A Pyramid Scheme Or Scam? All you need to know
Affiliate marketing has grown out to become one of the largest business marketing models in the world. The ease of work and availability have made it a top choice for companies to gather leads and conversions.
The cool thing is that it is an amazing way to make money online.
Admit it. Internet is filled with false information and scams. No wonder why you doubt if affiliate marketing is a scam.
So is affiliate marketing a pyramid scheme, or just another scam?
We will look into the matter in detail here. Read the post to know more in-depth about how this works and how it is different from a pyramid scheme.
After reading this, make sure to also have a look at the best lifetime affiliate marketing programs to skyrocket your earnings.
Here you go!
What is a Pyramid Scheme?
A pyramid scheme is an illegal business investment model where the members on the higher tier are paid with commissions from those on the lower tier, who in turn are paid by people on the lower tier than them, and this goes on.
For example, let's say Kriss started a company. Hearing the guaranteed returns and offers made by Kriss, 10 people want to join his program, and in letting them join, Kriss gets paid from them. Now, the 10 people start recruiting more members into the program, say 10 new members each.
Then, the new 100 members who were recruited by the 10 have to pay them commissions, and from these commissions, Kriss too gets a share. This process continues.
It is called what it is called only because of the hierarchical arrangement of the system that is used. For enrolling new members assigned to the lower tier, the older ones at the higher tier get profit.
In simple words, I get a commission when I make someone join the program, and he/she gets a commission when they make someone join the program ( and I too get a part of that share ).
Here is an article from Investopedia that explains pyramid schemes in detail.
Why you should not invest in a pyramid scheme
Pyramid schemes are considered illegal in many countries including the US, UK, Canada, and probably in any country that you can think of.
This is mainly because this specific model of multi-level marketing often targets and traps innocent people looking for investing. To sum up, they end up losing their money instead of having the promised profits.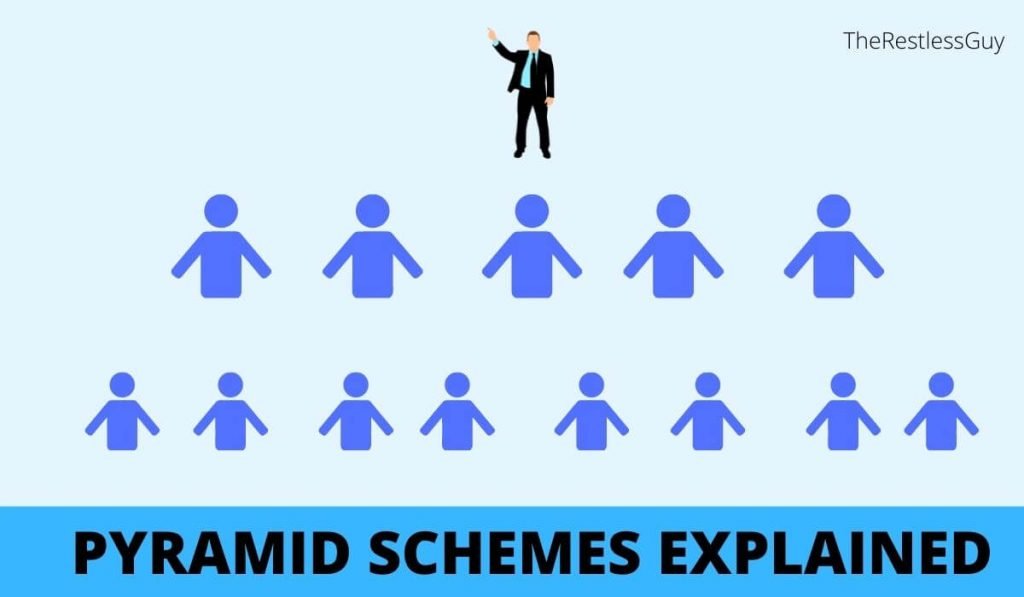 All Multi-level marketing businesses are under the eyes of the FTC ( Federal Trade Commission ) since the 1990s and they make sure things run well for both the customers and the business owners, at the same time looking out for any scams.
It may be also mentioned that it is often referred to as a pyramid scam, and it is for a reason.
The probability of the failure of a pyramid scheme is almost sure and would definitely happen today or tomorrow. Once it becomes hard to find any more recruitments, the pyramid would collapse.
The whole business and all those who are involved in the pyramid scheme would crumble down altogether. They would end up losing their money and may also have to face legal issues from the government.
Therefore, it is important to stay away from scams like this to avoid meeting the fate of wasting your invested funds or being sent to jail ( just kidding )!
Now, what about affiliate marketing? Is affiliate marketing a pyramid scheme?
To understand this, you must first understand what affiliate marketing is and how it works.
What is Affiliate Marketing?
Affiliate marketing is the process of promoting a product, in which the promoter earns commissions for each successful sales or conversions.
Think of it as brokerage. If you understand how a broker makes money, you will probably understand the affiliate marketing model.
Companies and businesses want sales and leads, let it be any. Therefore, they are happy to provide anyone with commissions for bringing them what they want; customers.
This is what an affiliate marketer does. He or she simply promotes the product online. This can be done by starting a blog, running ads, or even by using social media for sales.
How Affiliate Marketing works
Let's take an example:
Mike is the owner of a software company. To bring leads (customers), he is ready to give an amount of the profit as a commission to anyone who is willing to drive customers.
For each affiliate marketer that approaches him, Mike provides them with a unique referral link that they can use in their blog or somewhere else.
Whenever someone clicks that unique affiliate link and buys software from Mike, he is able to track who promoted it and would give them a fixed amount of commission. This can range from anywhere between 5 to 70%.
Here is an article from Wikipedia about affiliate marketing.
Is Affiliate Marketing a pyramid scheme?
No. Affiliate marketing is not a pyramid scheme. It is a legit and working model businesses use to get sales and conversions.
Not only that affiliate marketing is not a pyramid scheme, but it is also 100% legit and an allowed method that has been ever around since the internet boom began.
But why is affiliate marketing not a pyramid scheme?
This is because, in affiliate marketing, not only investments but REAL SALES are made unlike the other where no sales occur.
In pyramid schemes, not only that sales are absent, the products do not even exist, or you get more profit for bringing new people in rather than what you would get for selling a brand product… Even if they exist, most probably they are of low quality or worse, not even sellable.
Have a look at this comparison table to understand how affiliate marketing is different from a pyramid scheme :
| Affiliate Marketing | Pyramid Scheme |
| --- | --- |
| Real sales made | No sales made |
| Investment combined with real products | Only investments, no products |
| Is a legit business model | Is an illegal investing model |
| Not a scam | Is a scam |
| Can be used to make money online | Cannot be used to make money online |
A detailed comparison between affiliate marketing and pyramid scheme
It is important not to get your heads in scams, and affiliate marketing is not one.
Related: Modern Millionaires scam; the truth untold.
Affiliate Marketing : Time to make money online
Ever thought of making money online? If not, it's finally time to think about it seriously.
After all, who doesn't enjoy sipping a hot coffee and sitting in front of their computer while earning more than what a FULL-TIME JOB can give them?
Yes. And the best answer to this is affiliate marketing!
Affiliate marketing is a rare beast. It is one of the easiest, profitable, and best methods to make money online. As an affiliate marketer, one no longer has to work from 9-5 every day but just an hour a day would be more than enough.
Some may see it as a side hustle, but only after getting into the field you will understand the true potential it has to offer.
The most used methods to promote affiliate products are :
Blogging: Starting a blog is one of the best ways to make sales as an affiliate marketer. It is all easy and beginner friendly which makes it an excellent option for anyone alike.
Youtube Channel: Ever seen links under youtube videos? Yes, they are affiliate links. Why not start a youtube channel? It combines excellently with blogging, and can be used to drive massive traffic to your blog or website.
Social Media promotion: Social media marketing may not be as good as the above two, but still is a underutilised beast.
Running paid ads: A quick rich scheme for anyone looking to earn fast. Run ads on Facebook, Google and Bing, get clicks and sales.
Why you should become an affiliate marketer
We now know how affiliate marketing is completely different from a pyramid scheme. Getting to the point, why not become an affiliate marketer yourself?
I myself am an affiliate marketer and I must say that I am more than glad I decided to be one.
Some benefits of affiliate marketing :
Completely beginner friendly
Easy compared to other ways of make money online
Low input and requirements
No more full-time working hours
Has such a huge potential in store that in most cases can replace a full-time job
A laptop, an internet connection, and you are done
How to learn affiliate marketing
This is the most important part. Anything to master requires proper knowledge about it, and affiliate marketing is no different from it.
So how can you learn affiliate marketing?
Absolutely, the answer is Wealthy Affiliate. Free, awesome, and my favorite…
Covering from beginning to well-advanced sections, it is the only all-in-one shot place that exists. Learn to make money online, from scratch.
Not only that, you even get direct access to the CEOs of Wealthy Affiliate, Kyle and Carson in case you are stuck on something.
Video lessons, classes, tutorials, 24/7 support, a community of other affiliate marketers, and you even get to build a free website with Wealthy Affiliate!
The best thing is that most of this does not even COST ANYTHING, and if you want to upgrade, the plans are as low as 19 to 40 dollars a month.
Whether you are just getting started, have some experience, or are an ultra-successful affiliate marketer, Wealthy Affiliate is made for you.
By any means you don't like the above, this post I have written about the best Wealthy Affiliate alternatives may be of help…
A list of some famous pyramid schemes to avoid :
#1.Amway International
#2.Herbalife
#3.Nu Skin Enterprises
#4.Vemma International Limited
#5.Fortune High-Tech Marketing
#6.USANA Health Sciences
#7.BurnLounge Inc
#8.United Sciences Of America
#9.Business In Motion
#10.Mary Kay Consulting
Source: https://www.gradschools.com/get-informed/student-guide/top-10-pyramid-schemes
Conclusion
That was a long read, phew!
By now we know why affiliate marketing is not a pyramid scheme or any scam. We have also seen the benefits affiliate marketing offers and why it is an excellent choice to make money online.
Now, it is finally time to take action on what you have just learned. This is why I recommend to get started with wealthy affiliate.
It is important to distinguish between a pyramid scheme and a legal program. This is what we have done in this article.
Whatever methods you use to learn, it does not matter as long as you learn what you want. What matters is that you take the courage to step in and start learning.
Make sure to invest in only working and legal programs to avoid the risks of losing money and facing legal issues. Stay away from pyramid schemes as much as possible.
Hope you enjoyed reading the article every bit. Looking forward to feedback, and make sure to comment your thoughts on this post.
Have a nice day.
Cheers,
The restless guy
Frequently Asked Questions (FAQ)
What is a pyramid scheme?
A pyramid scheme is an illegal business investing model where the members on the top tier are paid from the funds from members on the lower tiers.
Is Affiliate Marketing a pyramid scheme?
No. Affiliate marketing is not a pyramid scheme but a working and legit business model used by companies to drive sales.
What is affiliate marketing?
Affiliate marketing is the process of promoting products and earning commissions for each product sale. This can range from 5-75%.
How to learn affiliate marketing?
There are a lot of places to learn affiliate marketing online. Youtube videos and platforms like wealthy affiliate works like a charm.
What's wrong with pyramid schemes?
Investments made on pyramid schemes face the risk of being lost once no more new members join the program.